Certified Advice Professional
Trademarked Designation
by
– Advice Watch –
To see an example
 of one of many possible ways
 you might use the:

When you get your Certified Advice Professional certification, simply take the "CAP" off of our logo and apply it on your own website and/or social media page/s.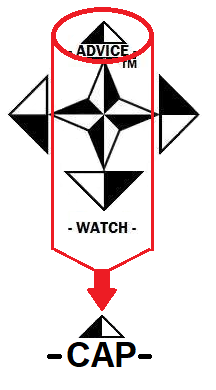 The Distinction of Knowing Vs. Giving
     Because having knowledge and expertise of a subject or topic does not necessarily mean that you're the most qualified and dignified to give guidance on such.  Knowledge and expertise is what is inside of your own mind.  We want to know if you're capable and noble enough in character of what's expected in articulating and providing guidance of such expertise.  Usually that also means having the heart of a teacher even when giving the best advice is counterproductive to your financial bottom line.
     When you acquire your – CAP – Certified Advice Professional credential you'll have a serial numbered certificate linked back to all of your qualifying websites and/or pages such as your Linked-In*, Twitter*, and Facebook* fan page.  Not only does this provide you with a quality back-link, and a searchable directory where you might be found, but gives you a clickable and verifiable credential to place on your own website or page to instill trust and respect of visitors.
Why Certification From Advice Watch Matters:  
The Advice Watch by Advice Star was the first unchallenged all-field advice watchdog dating verifiably back to 2009 using the way-back machine by the internet archives.  Before then, we had the Advice Star e-mail service of being on the lookout for advice tips across any known quality websites at the time.  We've always had the reputation of never spamming and never knowingly linking to any spammy websites, even before search engines penalized sites for doing such.  Whenever we found what was once a quality link then turned spammy, we immediately removed the link and banned the site and owner in any way that we could, always.  We are what is known as a Safe Site by search engines such as Google* and Bing*.
We started out primarily as an e-mail service for people seeking advice and tips on particular topics of their personal interests.  As of this date, we've never had any warnings about spam from the FTC; because we simply don't do it…  Our patrons specify which kind of advice tips and topics they want us to be on the lookout for. We then periodically mail a customized newsletter with their interests.  If they ever get tired of receiving our newsletter and they tell us so, we immediately cease all e-mail contact upon verification.  That's how we roll.  Simple and straight forward.
So Now, we're Rolling Out The CAP Certified Advice Professional Designation
What it means to you
If you are awarded the – CAP – designation you will:
 Be listed in our upcoming searchable directory of Certified Advice Professionals.

 Have your own e-business card on our website with back-links to your verified website and/or social media pages.

 Have priority filtering on our new OOHUB Search Engine being developed, which will have an advice tab that filters all other sites and pages and automatically ranks those with the  – CAP – and -VAST- designations higher in search results.

Probably be mentioned in our blog, social media, and/or possibly our e-mailed newsletter.
Seriously!  For a very limited time  while we build the directory,
 we're offering this unique distinction for free! ++